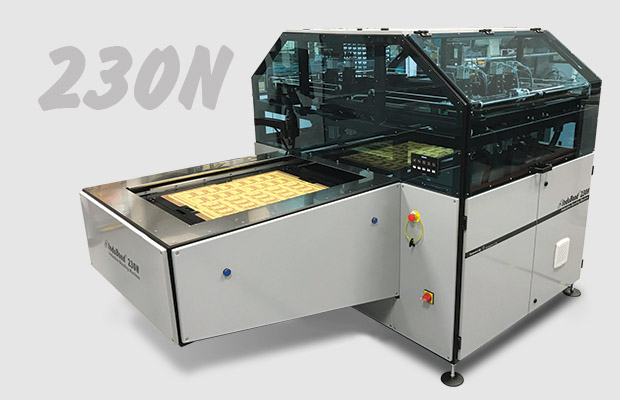 InduBond ® 230N is a new generation of the inductive bonding machines by Chemplate for layer to layer pin registration and bonding the stack-up of inner layers and prepregs of a multilayer printed circuit. This process allows to laminate the multilayer boards without the needs of the pins and hard tooling plates.
The process allows repeatability and reliability obtaining high registration precision between the inner layers (Tooling template accuracy < 10 microns). The multilayer stack, previously mounted on a tooling template with high-precision mechanical pins, is bonded by InduBond® technology using 4 InduBond®heads (optional, 6 heads), that uniformly press and heat the bonding spots in all the inner layers until the prepreg resin is fused and cured, thereby guaranteeing the bonding of multilayer stacks of up to 10-mm thick. (higher under request).
The tooling plate is customized, could be 2 round pins, 3 round pins, multiple round pins,3-4 slot pins or a combination; the tooling templates are light and removable (not fixed tothe machine). This allows flexibility, so you can have different tooling plates if needed.
The resulting bonding spots are flat, without over-thickness. They are capable of withstanding the dilations and shrinkage of the hot press cycles, thereby providing the best possible linear movement of all layers in a multilayer stack-up, reducing the internal stress that cause warping and deformations and moreover, reducing the distortions and misalignments between inner layers.
Technical Data
Weight: 900Kg.
Max. Inner Layer Size: L.750 x W.650mm (30x25").
Min. Inner Layer Size: L.250 x W.250mm (10x10").
Max. Bonding Thickness: Up to 10mm (higher under request).
Installed Power: 3Kw (400 Volt - 3ph+N+G - 50Hz).
Air Pressure: 6 bar (90 psi).
Suction Hole: 80mm diameter (3,15").
Suction Flow: Min. 160 l/s.
Procedure Description
1. Place the internal core #1 on the pins over the Tooling Template.
2. Put on the prepreg sheets required for the stack-up.
3. Repeat step 1 and 2 until the multilayer stack-up is completed.
4. Once the stack-up is complete, the operator must confirm by 2 buttons.
5. The machine automatically move the tooling template with the multilayer stack-up to the bonding zone.
6. The second tooling plate is moved out simultaneously.
7. The plate is pushed up to be pressed before bonded to guarantee panel flatness.
8. The heads move to programed position for bonding.
9. The Inductive Bonding Heads (InduBond®) close the electrodes, and the bonding cycle begins.
10. Once the Bonding cycle has ended, the machine swap the drawers tooling template, so while the next one is being bonded, operator repeat process to build up next panel (The typical bonding time for an 8-layer stack-up is approximately 45-60 Sec.).
---
News & events
Below we show the latest news, recommendations and promotions related to Indubond, access each one of them to read more.